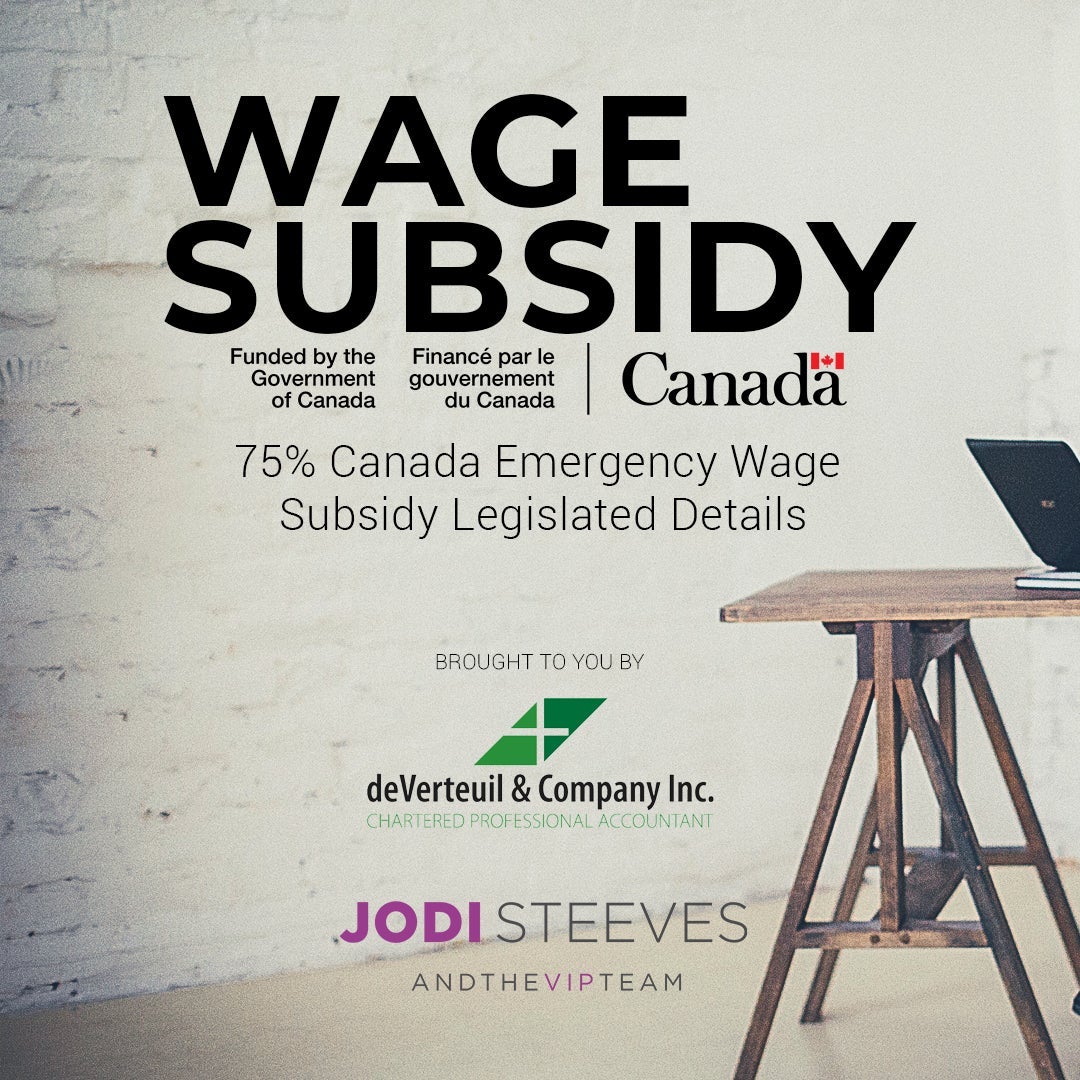 75% Canada Emergency Wage Subsidy Legislated Details
April 15th, 2020
Canada Emergency Wage Subsidy
On April 11, 2020, the Federal Government passed the legislation that will serve as the rules for the 75% Canada Emergency Wage Subsidy (CEWS).  This means that while Business Owners are still waiting for the application portal to open up, at least we now know what the requirements are for eligibility and specifics about how the subsidy will be calculated.
For the lawyers among us, the actual legislation can be found

here

.
For the rest of us, I'll do my best to walk you through it.
First and foremost, if you do not yet have access to your CRA My Business Account, register for that ASAP. 
That can be done

here

.  Once you have access,

make sure that your direct deposit is set up

to speed up the receipt of funds.  Directions on how to set up direct deposit are

here

.
Which Employers are Eligible?
Eligible employers include:
Individuals (sole proprietors)

Corporations, not including non-profits (

this is not limited to CCPCs as the 10% Temporary Wage Subsidy is

)

Registered charities

Partnerships (as long as the members are one of those above)
For the rest of this article, we'll use the phrase "Business" or "Employer" to mean one of these entities.
 
Revenue Test
Employers must meet a decline in revenue test of at least:
15% in March 2020

30% in April and/or May 2020
The legislation allows for flexibility to extend the CEWS to September 30, 2020, if the Department of Finance deems it necessary.  This means that for Realtors and others that may still have some deals closing or have some trailing revenues coming in, but that expect to see a dip come June, July or August, there is a function that hopefully will take you into consideration.
There are a couple of questions that may come from that revenue test.
What is revenue?

Revenue from whom?

A decline in revenue compared to when?
What is Revenue?
The legislation allows businesses to use the following

arising in the course of ordinary activities

:
Inflow of cash

Receivables (also called "Accrual")

Other consideration
This, then, is generally from the sale of goods or provision of services and excludes extraordinary items and the amounts received from the CEWS.
The "Inflow of cash" and "Receivables" means that Business Owner can

choose

 which method best reflects the challenges they are facing.  So if invoices are still being sent out (receivables), but collections have gone down (cash deposits), then you can choose to compare cash deposits for the relevant period.  The use of cash flows is something normally reserved for farms and fishermen, but in this case, will apply to all businesses.
Once the Business Owner has chosen "Cash flow" or "Accrual", they will continue to use that measure for the rest of the program.
 
Revenue from Whom?
For corporate groups, there are two calculations of revenue available.
Affiliated corporate groups can calculate revenue on a consolidated basis (the total of all revenue from all members).  This would be the revenue generated from sales outside the group, and so would exclude inter-group sales.

The second is in a case where all or substantially all (90% or more) of a Business' revenue are from non-arm's length entities (i.e. sales are only to related or affiliated entities), then the Business can use the decline in that revenue to determine its eligibility.
A Decline in Revenue Compared to When?
Employers can use one of two measures for the revenue test.  Revenues for March, April or May 2020 will be compared to either:
The same month in 2019;

OR

The average of January and February of 2020
The choice of either measure will be up to the Business Owner.  Once a measure is chosen, that will be used for the remainder of the program.
Previously Businesses would have to re-apply for the subsidy each period.  This has been changed so that once a Business qualifies, they will automatically qualify for the next period before having to re-apply in the period after next.
How Much will the Business Receive?
Of course to simply receive 75% of the gross pay paid to employees would be far too easy for the Tax Act... so instead we have the following:

The CEWS is based on eligible remuneration

paid

between March 15 and June 6, 2020 to an eligible employee.
Arm's Length Employees
The amount of the subsidy will be the

greater of

: 
75% of the amount of remuneration paid, up to a maximum of $847 per week; and

the

lesser of

:

75% of the employee's baseline remuneration; and

the amount of remuneration paid, up to a maximum of $847 per week.
Non-arm's Length Employees (Owners)
The amount of the subsidy will be the

lesser of

: 
$847 per week;

75% of the employee's baseline remuneration; and

the amount of remuneration paid for that week.
Baseline Remuneration
Baseline remuneration is the average weekly remuneration

paid

to the employee between January 1 and March 15, excluding any 7 consecutive days when the employee was not remunerated.
 
Eligible Remuneration
Eligible remuneration includes salaries, wages and other remuneration like taxable benefits, commissions, fees and bonuses, but does not include severance or stock options.  It seems that those that have been paid dividends historically and so have no salaries or wages paid in the baseline period will be out of luck...



There has been much talk about stiff penalties for trying to "game" this subsidy.  Any thoughts of trying to increase the CEWS beyond what would otherwise be received is strongly discouraged.


 
Employer Portions EI and CPP
You may have heard some mention of EI and CPP in the new legislation.  In the case of employees

who are on paid leave,

100% of employer portions of EI and CPP will be refunded to the Business.
 
Interaction with 10% Temporary Wage Subsidy
Businesses that benefited from the 10% temporary wage subsidy (TWS), which is a reduction to payroll remittance amounts (unchanged from those previously discussed 

here

), are still able to apply for the CEWS, but any benefit received from the TWS would reduce the amount available to be claimed under the CEWS.
 
Conclusion
We've been happy with many of these changes and refinements.  Ultimately as with anything finance or tax-related, as caveats are introduced these things always get more complicated...  The specifics of what the application process will look like and when it will be available is still unknown.  While we, sadly, won't be able to make the application for you, we will do what we can to help you get the information you need.

If you have any questions reach out to us and we'll do what we can to answer them.

You can find a summary of some of the other federal programs available, you can find them

here

.

We have previously created a long list of the different programs available federally and provincially, which can be found

here

.

We hope you're all staying healthy!
Best regards,

Andrew de Verteuil, CPA, CGA
de Verteuil & Company Inc.
de Verteuil & Company Inc.

CRU 210 - 9084 Glover Road
Fort Langley, BC V1M 0E6

info@deverteuil.ca
604-638-6964
es here