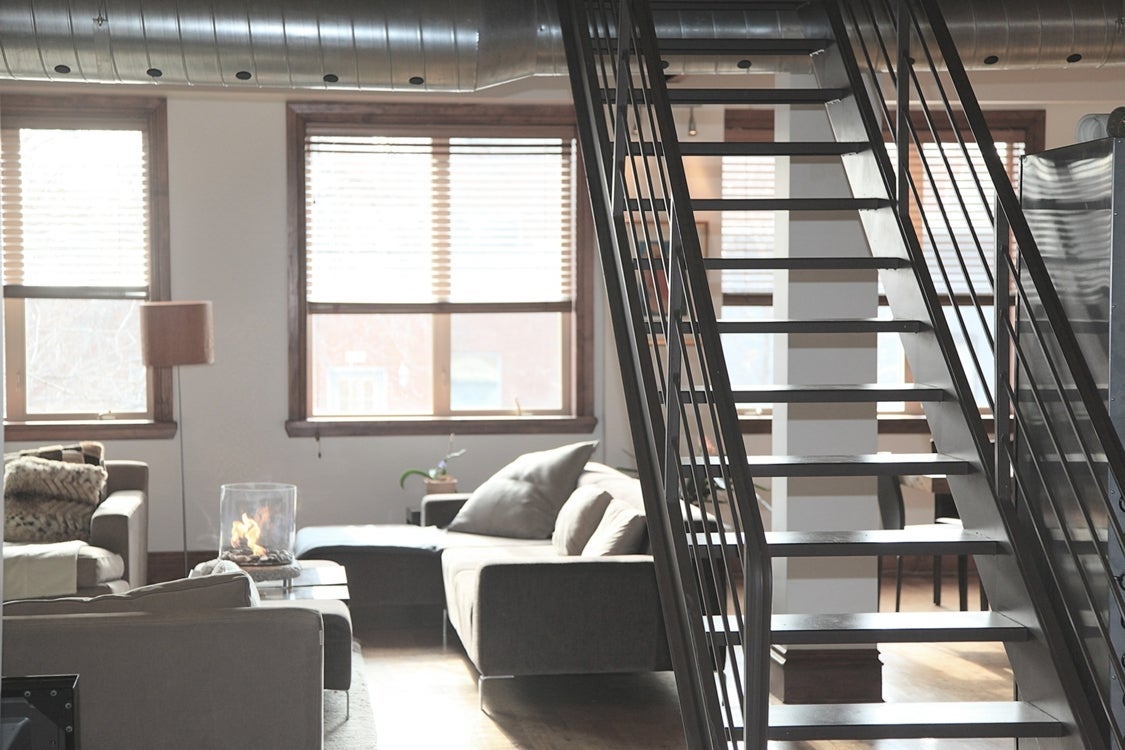 Choosing furniture for your new home
can be a daunting task, and if you have an open floor plan, you may not know where to start. While an open space is great for spaciousness and entertaining, it can be more difficult to space plan. Many newer Aldergrove and Langley homes and townhomes have this popular open concept plan, which gives the illusion of plenty of open space and natural light. It is a great plan for families making it easier to monitor children from the kitchen to the family room areas. The trickiest part of an
open floor plan is furniture placement
.
Choose Soft Furnishings 
An open floor plan is perfect for today's busy families, and many spend the majority of their family time in their open concept area. Since the area usually has a wide expanse, without many walls, choosing soft furnishings can help to absorb sound.
You may want to purchase items in fabrics such as leather or micro-suede
depending on your budget and your living situation. Both textiles are easy to clean and perfect for families
.
Open floor plans are great for visual connection between spaces and
adding things like soft window coverings and area rugs
will help to create a sense of intimacy.
Plenty of Seating  
Socializing at home works perfectly in an open concept space, with the option of sitting in the kitchen area or in the living areas.
Choosing furniture that allows for multiple people
to sit and be comfortable will help to make the most of your space. Bar stools, table and chairs and sectional sofas work well. For a lower price point, Ikea makes great furniture, and there also lots of options that can be slipcovered. If your budget is larger, leather is a durable material that works well for sectional sofas and barstools, easily wiped clean. An open floor plan allows for plenty of space for your guests to move around, so
comfortable seating for gathering is a must.
Furniture Arrangement 
Think of your furniture pieces in a grouping; for example, in your living room, the sofas, coffee table, end tables, area rug and perhaps a chair would be your grouping. If you
consider the furniture pieces and how they relate to each other
, you will be able to adequately plan the space for them. Consider a
monochromatic colour scheme
to make your space seem more expansive and cohesive, or
decorate with higher contrast colours
(like deep blue walls and cream coloured furniture) to add visual interest to your space. When choosing furniture and planning it's placement, remember to allow enough space to transition between for circulation. You need at least 3 feet of room for paths of travel.  
There are many benefits to an open concept space and
choosing the right furniture can help to make it feel like home.
Choosing pieces and colours that you love will make it feel more like home. Decorating with accessories that can be easily and inexpensively changed is a way to change things and give your home a fresh new look. If you are unsure, there are online solutions to help you plan your furniture placement, or hiring a designer may be the right choice for you.
Our VIP team at Jodi and the Team can not only help you stage your existing home to sell
, but can give you a quote to help you design and plan your new Aldergrove or Langley home also.